Introduction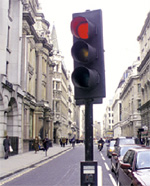 Public sectors have demanding applications for Ethernet, especially in Traffic Control. Major intersections in a city can be monitored real-time through Ethernet by traffic management center personnel. The management center can control traffic lights, take pictures of intersections, and record live traffic feeds to store for reference later on. Axiomtek's rBOX series and iCON series integrate control, communication, management, and video to fulfill demanding requirements in traffic control applications. Our robust design is perfect for outdoor installations, with operating temperatures ranging from -40°C to +75°C and high humidity. Our Ethernet devices are compliant with NEMA TS1 & TS2 environmental requirements for traffic control equipment.
| | |
| --- | --- |
| | Intelligent Transportation Solutions |
Related Products
DIN-rail Fanless Embedded Systems
Axiomtek's rBOX series of DIN-rack fanless embedded systems is suitable for intelligent computing and communication solutions in critical environments, such as power plant automation, facility monitoring systems, and intelligent transportation systems. The rBOX series supports an extended temperature range of -40°C to 70°C for use in extreme operating environments. The fanless design increases reliability, extends MTTR, and ultimately reduces maintenance efforts. Front accessible I/O cabling is very convenient for wiring and maintenance. The rBOX series features a redundant Ethernet LAN connection for greater availability and reliability. The redundant power inputs minimize the risk of data loss in the event of a single power failure. Their compact size with DIN-rail mounting allows for easy installation into control cabinets. The rBOX series meets Safety Agency requirements and have passed heavy industrial EMI/EMS testing. To streamline implementation of management applications, Axiomtek has launched AXView monitoring software package. Based on SNMP protocols, AXView makes it easy for system administrators to manage and monitor remote computers.
Industrial Unmanaged Ethernet Switches
Axiomtek's 5/8/16-port industrial unmanaged Ethernet switches are designed to operate in the harsh environments at the edge of the network. They are available in standard 10/100Mbps and Gigabit 10/100/1000Mbps speeds, with both copper wire and fiber optic cable connections. Except to the Ethernet generic switches, the PoE (Power over Ethernet) switches that send both power and data through an Ethernet cable are also available. All of the switches feature DIN-rail or panel mounted, and come with power options to match the applications that require a tough, environmentally hardened Ethernet switch.
Axiomtek's Ethernet extender series is the point-to-point Ethernet extender designed to operate in harsh environments, which effi ciently extends 10/100 Ethernet circuits up to 1900 meters (6232 feet) by using existing twisted pair copper wire or up to 2600 meters (8530 feet) by using coaxial cable. The iCON-32300 Ethernet extenders allow Ethernet connectivity in existing twisted copper wire or coaxial cables facilities without pulling extra cable or coaxial cable. Axiomtek's Ethernet extender series is the perfect and cost-effective solution to Ethernet in last mile.
Application Diagram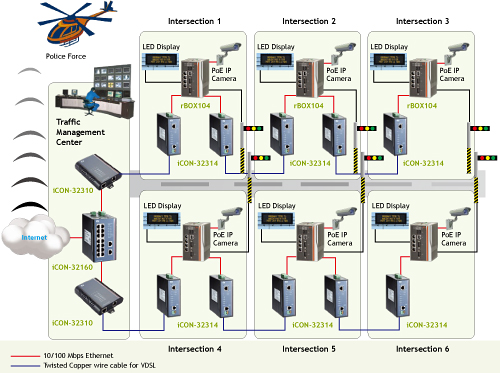 Traffic Control System